Many, many thanks to Malindo Lo for letting me drop by Diversity in YA
I admit to being challenged when it comes to blogging on my site consistently.
Good thing the people at Macmillan give me deadlines and such; check out my latest post for them!
http://www.macteenbooks.com/ya/making-the-unfamiliar-more-ordinary-a-blog-post-by-kristin-elizabeth-clark/
There are a few things that make me shake my fist at the radio, or at my computer screen if I happen to be reading news online.
I know it looks stupid, but outrage overcomes decorum at certain times.
Today was one of those days.
I came across an article about a Drag Show that is being put on at the University of San Diego. The Supreme Drag Superstar 2 is to be held at the Shiley Theater on campus.
It seems that many people at the Catholic-founded school are upset by this. So upset that folks have mobilized and are planning a prayer vigil. That's right. A prayer vigil.
My outrage wasn't due to the fact that people at a Catholic University objected to a drag show in their midst (though if that's the case, here's a novel idea… DON'T ATTEND!)
No, what had me shaking my fist like some palsied gold prospector from '49 was this:
People were maimed and killed in a terrorist bombing a little over a week ago.
North Korea is threatening (whether credibly or not) to hit the US with nuclear missiles.
There are roughly 925 MILLION hungry people in the world.
Genocide in Darfur continues.
Indeed there are many, many terrible things happening the world over – and yet here's a whole group of Christians at USD who've decided that putting a stop to a drag show is the most important thing for which they can pray.
REALLY.
Dadblamit, it makes me mad.
http://www.charismanews.com/us/39220-prayer-vigil-targets-drag-queen-show-at-catholic-university
Check out the blog post I wrote for Mac Teen Kids.
It's about the knock down, drag out fight I had with Verse. Read it to see who won.
One of the most fun things about getting involved in just about any community is getting to know other people who share your interests.
Unless it's a community with a one sided interest like say… a community of people who love pelting other people with rotting skunks but who don't necessarily enjoy being so abused themselves. In that case I think it's probably best to avoid community.
But I digress.
Something great about discovering the writing community is getting exposed to people who share your interests in both reading and writing, and who sometimes Very Kindly invite you to contribute to their ah-Mayzing blogs.
Check out Gotta Book – the fabulous blog belonging to Greg Pincus today. I shared a poem from my upcoming verse novel, FREAKBOY, and nary a skunk was pelted.
http://gottabook.blogspot.com/2013/04/kristin-elizabeth-clark-pronoun.html
I went to Graceland!
Not the one where you can see legions of fans poking around the grounds to see if maybe Elvis Presley is still alive and disguised as a groundskeeper – I went to the famous-maybe-haunted-Chicago-cemetery.
Here's a statue of a little girl, Inez Clarke,  said to have been struck by lightning on a family picnic in 1880 or so. The glass box around the statue was erected to protect the monument from the elements. It's said that the statue sometimes disappears durning thunderstorms. And that children brought to tour the cemetery with their parents have reported making friends with a little girl in old fashioned clothing near the spot.
(Honestly – don't parents watch their children better than that? Especially in graveyards? Have we learned nothing from Night of the Living Dead, people?)
The story of Inez Clarke is wonderfully spooky, but evidently wonderfully made up as well. No one can find documentation that such a little girl even existed, let alone was buried at Graceland.
Which is kind of too bad, because I love a good ghost story.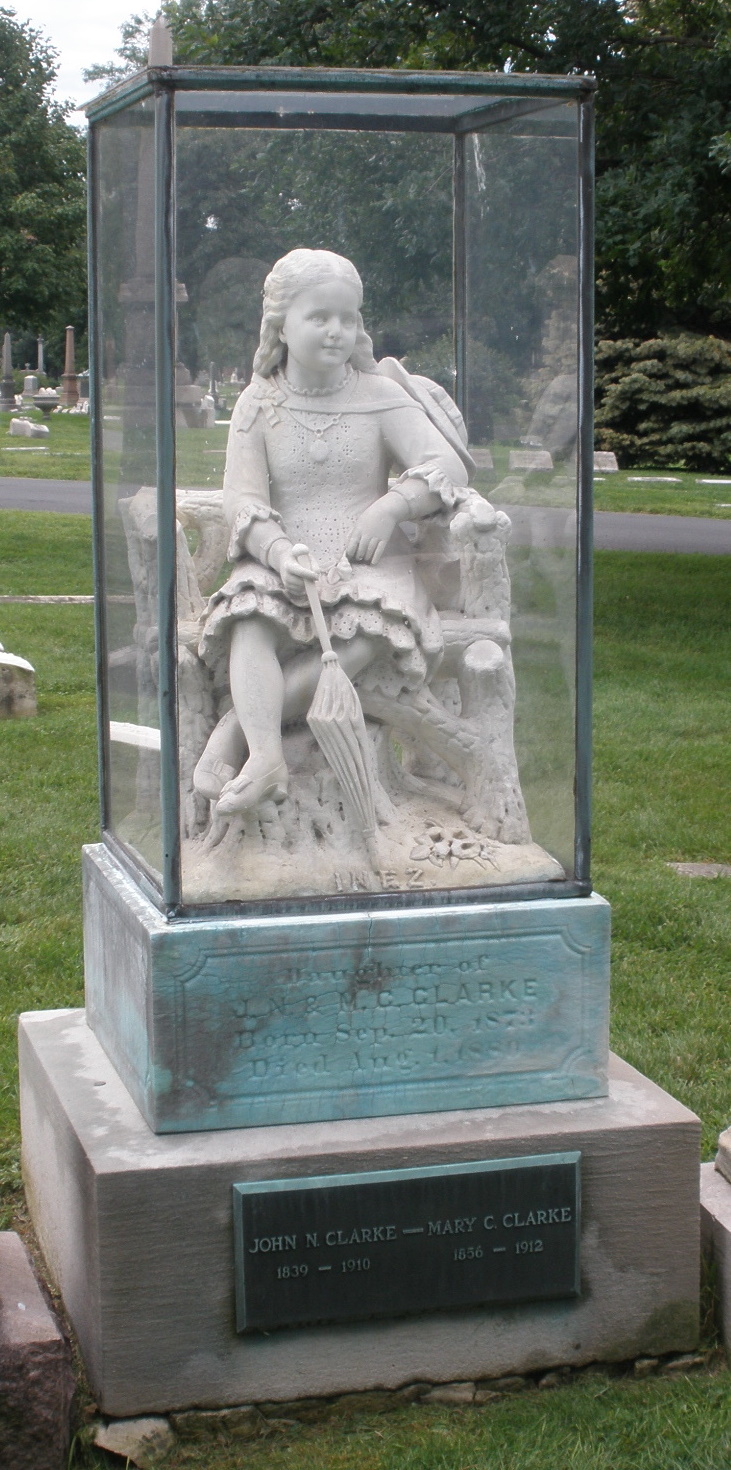 Today is an excellent day!
I had a mango for breakfast, my dog didn't bite me, and I received confirmation that I'm going to get to present at SCBWI LA this summer.
Oh, and I got a huge shout out in The Atlantic Wire. Smiley-Faced Emoticon HERE.
I don't know about you, but I can't stand those little posts that go around Facebook. You know the ones I mean.
"A mother is the one who will love you even when your house is a mess and your sweatpants have blood stains on them from that murderous rampage you went on. Click like and share if your mother is one of the most important people in your life."
Ok – I'm paraphrasing, but you get the idea. The thing is, I DO love my mom, I think she's swell and I don't mind telling the whole world about her. I just resent the hell of being nudged to follow the herd and post what everyone else is posting, lest it appear that I hate my mother (or sister or cousin or have no heart for whatever the cause du jour is.)
Why do I have to click in order to stand in solidarity with other people who like their moms? Or to demonstrate that I really do care about whatever the cause of the day is? It feels like blackmail. And truth to tell, I always eye the posters of such things a little in askance. Do you REALLY need me to stand up and say AMEN to whatever it is you're posting?
When it comes to the old click like and share, I'm not a joiner. Or at least I haven't been in the past.
The thing is… I just did it. And more than that, I changed my profile picture in response to a message from the Human Rights Campaign.
The Supreme Court will hear oral arguments on two historic cases for marriage equality this week. Hollingsworth v. Perry, the challenge to California's Proposition 8, was argued today, March 26. The case challenging the Defense of Marriage Act, Windsor v. United States, is scheduled March 27.
The HRC is asking everyone to use a red equality logo in order to show support for the notion that everyone in America should enjoy the same civil rights as everyone else.
A sea of red logos popping up as profile pictures on facebook is a visible, graphic way to demonstrate that we're ready to stop marginalizing a whole segment of our society.
I can't imagine NOT demonstrating my solidarity with fellow human beings who are being denied this very basic right. I can't imagine NOT showing my support for this cause. And I can't imagine NOT thinking fondly of my fellow facebookians who choose to do the same.
Equal rights for all. Can I get an AMEN?