Freakboy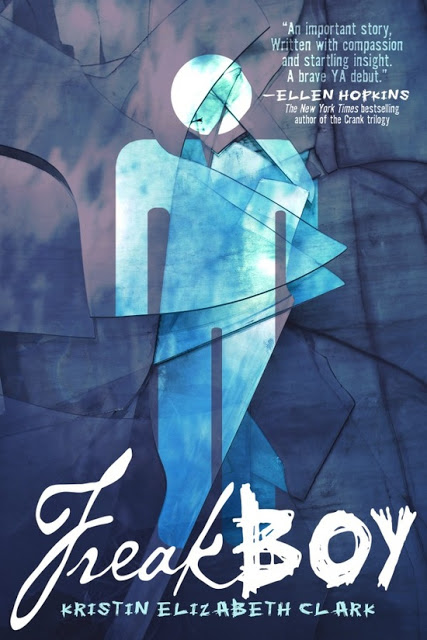 From the outside, Brendan Chase seems to have it pretty easy. He's a star wrestler, a video game aficionado, and a loving boyfriend to his seemingly perfect match, Vanessa. But on the inside, Brendan struggles to understand why his body feels so wrong—why he sometimes fantasizes about having long hair, soft skin, and gentle curves. Is there even a name for guys like him? Guys who sometimes want to be girls? Or is Brendan just a freak?
In razor-sharp verse, Kristin Clark folds three narratives into one powerful story: Brendan trying to understand his sexual identity, Vanessa fighting to keep her and Brendan's relationship alive, and Angel struggling to confront her demons.
Hardcover, 448 pages Published: October 22nd 2013 by Farrar, Straus and Giroux (BYR)
ISBN: 0374324727 (ISBN13: 9780374324728)
_____________________________
INDIEBOUND | B &  N | AMAZON
What people said about Freakboy…
"An important story. Written with compassion and startling insight. A brave YA debut."   –– Ellen Hopkins, New York Times bestselling author of the Crank trilogy
"…a gripping story about a complex topic…" — Publishers Weekly, starred review
"This gutsy, tripartite poem explores a wider variety of identities—cis-, trans-, genderqueer—than a simple transgender storyline, making it stand out." — Kirkus Review, starred review
"It succeeds in conveying the message that "you are not alone" to transgender youth while helping everyone else get a handle on these often-tortured teens. The author succeeds in her mission to foster 'greater understanding and acceptance of gender's vast and lovely variation.'" — School Library Journal
"A sincere, profound rendering of sexuality, queerness, and identity." — The Horn Book

upcoming…

Jess, Chunk, and the Road Trip to Infinity
The last time Jess saw her father, she was a boy.
Now she's a high school graduate, soon to be on her way to art school. But first she has some unfinished business with her dad. So she's driving halfway across the country to his wedding.
He happens to be marrying her mom's ex-best friend.
It's not like Jess wasn't invited; she was. She just never told anyone she was coming. Surprise!
Luckily, Jess isn't making this trip alone. Her best friend, Christophe—nicknamed Chunk—is joining her.
Along the way, Jess and Chunk learn a few things about themselves—and each other—which call their feelings about their relationship into question.
Hardcover, 272 pages Upcoming: November 8th 2016 by Farrar, Straus and Giroux (BYR)
ISBN: 0374380066 (ISBN13: 9780374380069)
_____________________________
INDIEBOUND | B &  N | AMAZON